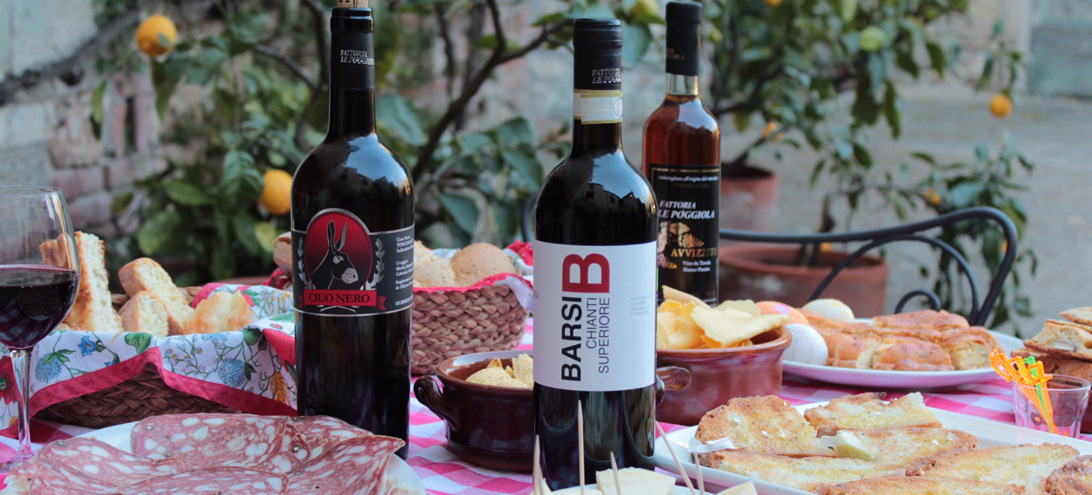 Discover how our quality organic products are made.
Once a week, usually Thursdays & nbsp; afternoons, Lisa is available to guests, staying or passing through, to introduce Pòggiola, its history, its land and its products telling how wine and oil are made, with tasting of typical Tuscan products.
If you have the "luck" to happen during the harvest, or during the olive harvest or some other agricultural work, you can participate and just stop to see how it is done.
Guided tours of the vineyard and the cellars, with a tasting of our wines, can be booked for individuals or groups of up to 60 people.
At Le Poggiola you can taste the Typical Tuscan Products and learn how they are produced.
It is possible to make a tour of the farm to understand how to work in the farm and how to get good quality wine and oil.
It starts with vineyards and olive groves, and continues in the cellars, where the production of wine is explained.
Then the tasting of our products will follow: Wine and Olive Oil, with the guidance of a Sommelier of the Italian Sommelier Association (AIS), which will show you the characteristics of the Wines of our production, in a simple and curious way.
Are you a guest at le Poggiola?
Ask when you can visit and / or taste during your vacation, starting from 10 euros depending on the number of wines tasted.
Are you a guest of another establishment?
Thursday afternoon is the day dedicated to the visit and tasting.
Contact us for different days and times: +39 329 7971398 – info@lepoggiola.com
Do you want to buy directly from the manufacturer and see how a product is born?
We are open from Tuesday to Saturday every morning 8.30-12.30
The opening hours depend on the season.
A phone call is always welcome & nbsp; +39 329 7971398
SNACKS AND SNACKS: & nbsp; based on cured meats, bruschetta and cheese, with other homemade products such as cantuccini, tarts or homemade desserts.
< strong> GUIDED TASTINGS: wine tasting with explanation and visit.
VISIT-TASTING WITH DINNER (FOR GROUPS): visit with dinner in the room or in the garden, previously established menu, customizable according to your preferences.
COOKING TOGETHER : are you a kitchen lover? Do you want to stop in the kitchen with us? you can learn some recipes in an afternoon together in the kitchen, listen to our stories, and decide whether to stop for dinner.

Booking is necessary